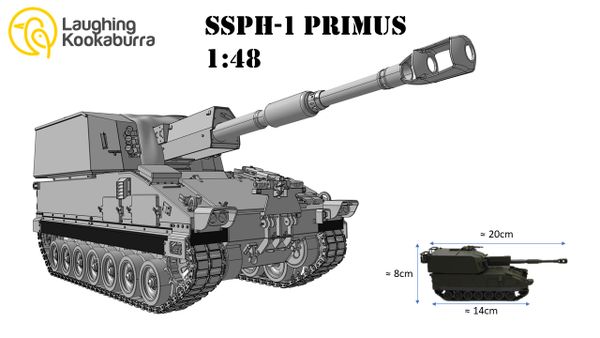 SSPH-1 PRIMUS (1:48)
The inspiration for our company began in 23 August 2010 when we wondered if we could create models and miniatures to capture the moment of our servicemen by combining skilled craftmanship and technology. 
Like most miniature model creators, it started with that simple philosophy of "creating art piece that collectors will appreciate."  We began the journey with a series of miniature ranks, figurine, and tanks. 

Since the Bionix AFV  rolled off the line, we have designed, created, and shipped hundreds of it to customers around the world. The amazing support of the collectors and army community motivate us to launch more variety of models and continue growing our business.


Earlier this year, we began experimenting with various combinations of 3D printing and resin crafting and have developed a system which produces very high quality and detailed 1/48 resin tanks, equipment and vehicles. We are proud to kick off the new miniature model, SSPH-1 Primus in time to commemorate the 130th anniversary of  the Artillery Formation in 2018 and NS50 in 2017. To get things started, we have created three scale sizes, 1:48 / 1:24 / 1:12.   


We will start to accept pre-order for 1:48 scale SSPH-1 Primus.

Pre-Ordering Mission
Production has already begun on the 1:48 scale SSPH-1 Primus .We are launching the initial pre-ordering on 10/06, 1006HRS until 1st July 2017,2359HRS (SGT). Advanced notice liao. So be Super Action!


Super Action:  $120.00 (Only 10) COMPLETED 
Fast Action: $130.00 (Only 40) COMPLETED 
Regular Action: $150.00

To make it digestible here are the details in point form.
1. L (≈ 20cm) H (≈ 8cm) W (≈6cm).  Weight (≈550grams)
2. Turret is able to rotate L-R and detectable.
3. Barrel is mechanism with up and down movement.
4. Housed in cleared display casing.
5. Delivery flat rate $9.00 (but only in Singapore ah… tekong and pulau ubin buay sai hor)
6. Released Date: Oct 2017
Updated Aug 2021: Made-to-order, lead time is within 14-20 working day, (depends on the period) if you need any specific scale, we can fabricate. Please email us at sales@laughingkookaburracorner.com for enquiry. 



ASSURANCE

1. We have been working with SME and veterans to get the details as accurate as it is.
2. We have also done our research on Public Domain Knowledge on-site and offsite.
3. Our company's vision "We don't sell our works, that we wouldn't buy ourselves" ; and we strongly walk-the-talk.  
Reviews