SAR21 SG PRIDE (LIMITED EDITION)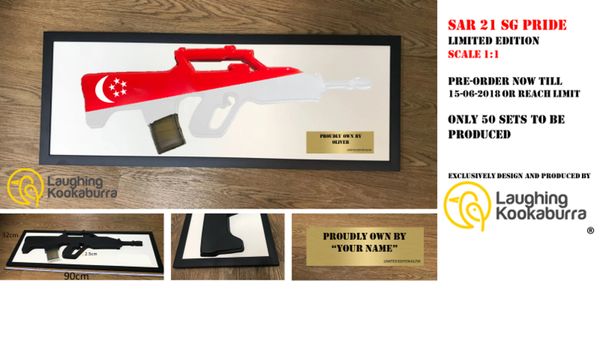 SAR21 SG PRIDE (LIMITED EDITION)
SAR 21 SG PRIDE LIMITED EDITION SCALE 1:1
Pre-order now till 15-06-2018 or reach limit of 50 sets.

Exclusively design and produced by laughing Kookaburra's corner.
The scale 1:1 SAR 21 is made of plastic and mounted on wooden frame (appx 90cm x 32cm). The frame is able to hang on wall or/and lie on flat surface for display.
IMPORTANT NOTICE:
1. Pre-order, and will only produce after cut-out date 15-05-18 or reach limit
2. No delivery will be arranged, and buyers have to self collection at our Secret Corner. As we need to record your details and signature needed.  Under the permit by the Police, we need to maintain and record the buyers' details.
3. NO SHIPPING/COURIER. ONLY SELF COLLECTION AT SECRET CORNER.
Reviews